OOTY RADIO TELESCOPE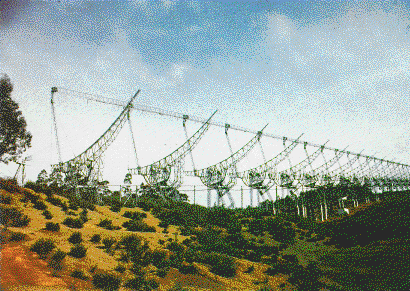 Radio telescope has been installed at Muthorai which could be reached via. Fernhill on the Udhagamandalam - Avalanche road. This being the largest telescope in Asia was constructed between 1966 and 1968. It was generated with indigenous capabilities in antenna design and fabrication as an offshoot. The Radio Astronomy Centre (TIFR) is using the telescope for astronomical investigations.
The Ooty Radio Telescope came into operation in 1970 and has been in almost continuous use since then. Over the 25 years of its existence, it has produced many important astronomical results on radio galaxies, quasars, supernovae, pulsars, the interstellar and interplanetary media etc. One of the most successful observational programmes carried out for many years at Ooty was to determine the angular structures of hundreds of distant radio galaxies and quasars by the technique of lunar occultations. The application of this unique database to observational cosmology provided independent evidence against the Steady-State theory of Universe and supported the Big-Bang model of the Universe. The telescope is currently being used mainly for the study of pulsars, radio recombination lines and interplanetary scintillations.