DODDABETTA PEAK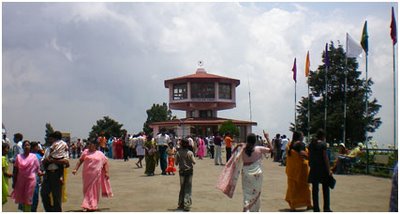 Another outstanding attraction here is the Doddabetta peak. It is the highest peak (2623 meters) in the Nilgiris and is situated about 10-km from Ooty, offering a beautiful view of the Nilgiri hill ranges.
The name Doddabetta literally means 'Big mountain' in the Badugu Language, which is so in reality. It is at the junction of Western and Eastern Ghats and offer beautiful vistas of Nilgiri Hills range. It is surrounded by dense Sholas. One can have a magnificent panoramic view of landscape and the whole of the District and even beyond through the Telescope House run by T.T.D.C., which is an added attraction . The Sunset is spectacular from this view point.
The Dodabetta Peak stands at an altitude of 2,623 meters. It is the highest point in the district, making it possibly the best vantage point around Ooty. It is merely 10km from Ooty so you can simply grab your camera and head straight to the peak, and click amazing pictures of he valley below. Many say that on a clear day, which is honestly not that often, one can see far off areas, even the plains of Coimbatore and the flat highlands of Mysore.