HINDUSTAN PHOTO FILM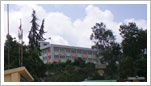 The HPF, one of the major industrial units ot the district, is a public sector enterprise. This unit is located (about 5 km away from Ooty railway station) over a sprawling area of over 300 acres, near the Ooty golf-links on the Ooty- Mysore road. The HPF was inaugurated by Mrs. Indra Gandhi, Prime Minister, in January, 1967.

This industrial unit is currently producing Indu roll films which are used for taking photographs; Indu X-ray films, the quality of which is acknowledged to be among the best in the world; Indu bromide paper on which photographs are printed; and Induaerographic for geological and defence mapping, industrial X - ray film, laser recording film, CAT film, special film for space photography, oscilloscope direct print paper, photo typesetting paper and range of chemicals for the film processing.