OOTY LAKE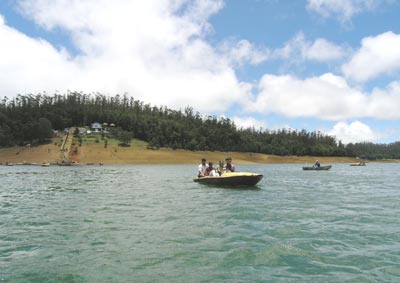 From just behind the Main Bus Stand (also near the Railway station) the famous Ooty Lake stretches, in an irregular 'L' shape, for about two kilometres in length and varrying distances in width. At the far end is the Boat House where all kinds of boats are available for hire from eight in the morning to six in the evening. During summer seasons, in May, boat races and boat pageantry are organised on two days at the lake which draw huge crowds.
The Ooty Lake is the pride of the Blue Hills. It is the central and strategic attraction. Mr. John Sullivan formed this artificial lake in the year 1824, the then Collector of Coimbatore. The Ooty lake which extends to an area of 65 acres. Earlier the entire lake was used for fishing. The Tamil Nadu Tourism Development Corporation on behalf of the Tourism Department took the possession of the lake for pleasure boating facilities in the year 1973. Another added attraction of the Ooty lake is the Mini Train and an amusement park.
This artificial lake was constructed by John Sullivan, the first collector of Ooty. Originally intended to be an irrigation tank it was dredged out during the years, 1823-1825.
The beautiful Ooty Lake is a favourite haunt of tourists. It was constructed in the year 1825, through the initiatives of Mr. John Sullivan, the then Collector of Coimbatore. This lake was built in order to provide an irrigation tank to the people.