GOVERNMENT MUSEUM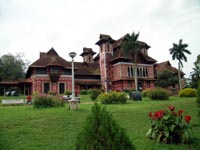 The government museum, Mysore Road, Ooty has items of tribal objects, district's ecological details and representative sculptural arts and crafts of Tamil Nadu. It was set up in 1989, with a view to provide education benefits to the residing and visiting population of Nilgiris district.
Tourist Information Admission: Free Timings: 10.00 am to 1.00 pm and 2.00 pm to 5.00 pm Closed On: Fridays, Second Saturdays and National Holidays Ooty The nearest airport is at Coimbatore (100-km). Ooty on the narrow gauge railway is connected to Mettupalayam, which is directly connected to Coimbatore and Chennai on the broad gauge. There are regular bus services connecting Ooty to Coimbatore, Trichy, Bangalore, Madurai, Kanyakumari, Mysore, Calicut, Tirupati etc.

The Government Museum, on Mysore Road, has an interesting collection of tribal artifacts, flora and fauna of the Nilgiris and handicrafts of Tamil Nadu.
The Government Museum is located on the Mysore Road. Items on display here include tribal objects, ecological details of the district and a miscellany of the sculptural arts and crafts of Tamil Nadu.